Threads of Change in 19th Century America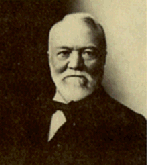 Industrialism
Your first job is to develop a personal definition of Industrialism. The following sites will be helpful:
Write down your definition. This definition will become a part of your company's museum presentation. (rubric)
Now investigate the sites below for examples which best illustrate the Industrial movement in America. You must choose four examples which may include: literary works, artwork, music or an artifact. Be sure to cite your work. You should have a minimum of four sources.
Inventors and Entrepreneurs
Prominent writers and labor leaders
Historical Perspective